Cherokee Co. Lakes & Rivers
May 04, 2023
Cherokee County boasts some of the most beautiful and serene waterways in all of Georgia. From sprawling lakes to winding rivers, there is no shortage of ways to enjoy the great outdoors in this picturesque corner of the state.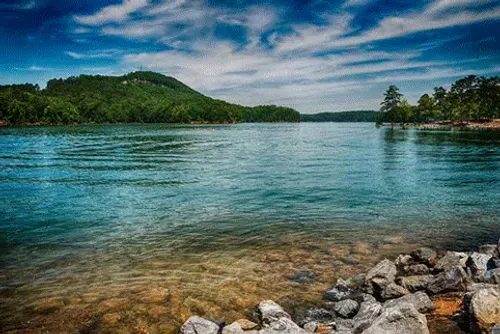 Lake Allatoona
Lake Allatoona is a must-visit destination for water enthusiasts. This massive lake covers more than 12,000 acres and offers a wide range of activities. Fishing is a popular pastime, with species such as bass, catfish, and crappie found in abundance. If you prefer to get out on the water, there are plenty of options to choose from, including kayaking, canoeing, and jet skiing. The lake is also surrounded by beautiful parks, making it an ideal spot for picnicking and hiking.
Etowah River
The Etowah River is a scenic waterway that winds its way through Cherokee County. Along its banks, you'll find plenty of opportunities to enjoy nature, from birdwatching to fishing. The river is well-known for its abundance of trout, making it a popular spot for anglers. For those who prefer to enjoy the water, kayaking and tubing are popular activities.
Little River
The Little River is a hidden gem that is well worth exploring. This small river flows through the southern part of Cherokee County and offers visitors a peaceful respite from the hustle and bustle of city life. The river is known for its crystal-clear waters, making it an ideal spot for swimming and fishing. Hiking trails also line the river, providing stunning views of the surrounding countryside.
Additionally, there are a number of parks located throughout Cherokee County that offer access to these waterways, as well as other outdoor activities. Blankets Creek Mountain Bike Trails is a popular destination for mountain biking enthusiasts, while Rope Mill Park offers scenic views and hiking trails. Hobgood Park is a great spot for families, with playgrounds, sports fields, and a splash pad.
Whether you're looking to spend a lazy afternoon fishing, or an adrenaline-packed day on the water, Cherokee County has something for everyone. So why not come and explore the beautiful waterways of this idyllic corner of Georgia?