Guilt by Association new men's clothing retailer in Woodstock
Apr 28, 2023
Attention, stylish gents of downtown Woodstock! Your fashion prayers have been answered with the arrival of Guilt by Association, a fresh new emporium of men's fashion that's sure to make waves.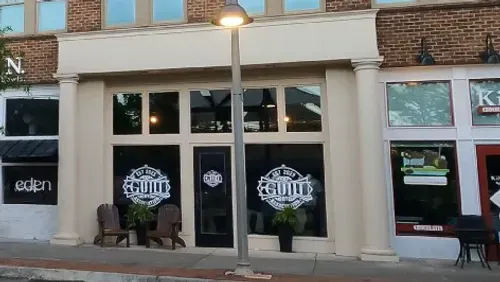 Just two weeks ago, this fabulous brainchild of entrepreneurial cousins Brittany Hudson and Chess Britt-Leon had a low-key "soft opening," but don't be fooled—things are about to get real! This Friday, at 4 p.m., the official grand opening will kick off with a ribbon cutting, scrumptious food, thirst-quenching drinks, and toe-tapping live music.
So far, it seems the gentlemen of Woodstock can't get enough of Guilt by Association. The store has been buzzing with excitement, and the rave reviews keep rolling in. Hudson and Britt-Leon kept the soft opening hush-hush, hoping to build anticipation for the big reveal—and boy, has it worked!
Guilt by Association's cheeky name hints at the relatable retail experience of treating oneself to a shopping spree, only to feel that pang of guilt and grabbing something for a loved one as well. The store boasts a variety of clothing options from brands like Onward Reserve, The Normal Brand, Meripex Apparel, Rye 51, and Wander North Georgia, as well as other national and local brands. And ladies, don't worry—you haven't been forgotten. There's a curated women's section in the back of the store, brought to you by Vale Wiley.
But this is no ordinary clothing store. Guilt by Association offers a haven for guys to kick back, relax, and shop in a "man cave" atmosphere complete with comfy seating, a big-screen TV perpetually tuned to sports, and the occasional bourbon-tasting or cigar-rolling event. Feel free to bring in some grub from nearby Canyons or other local eateries, and keep an eye out for the soon-to-be-installed beer cooler!
Hudson, who also owns the popular Dare to be Different store, saw the need for a men's fashion destination in Woodstock and jumped at the chance to fill the gap. Located at 460 Chambers St. Suite B, right next to Eden, Guilt by Association is set to become a go-to spot for the stylish men of Woodstock.
For the latest updates and upcoming events, make sure to follow Guilt by Association on Facebook at https://www.facebook.com/profile.php?id=100092224895033. See you at the grand opening!