Woodstock GA Parks & Recreation-Dupree Park
May 24, 2021
Dupree Park is Woodstock's oldest park
It is home to 18 holes of Disc Golf on the Prodigy Par2 Challenge, has 2 open fields to fly kites, play pick-up games with friends, picnic, or just relax. The fields are bordered by a 1/3 mile walking track and include an outdoor fitness station, shaded pavilion, and a restroom.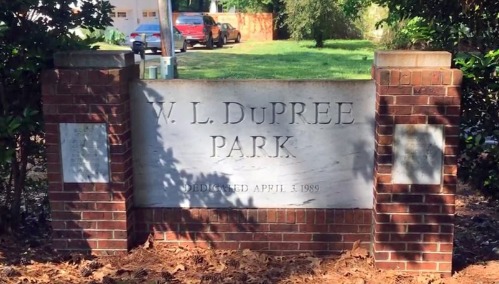 Dupree Park in Woodstock Georgia is located at 513 Neese Road.
At the center of the park is a nice shaded picnic area with multiple tables and a horseshoe pit.
The parking lot is across from the picnic area.
Across from that is a wonderful two-tiered playground area adjacent to 2 full-size basketball courts with bleachers.
There are multiple swings and climbing devices up top as well as a little house and a rock-climbing wall. On the lower level, there is another climbing device. As you go through the playhouse you can see some slides from the upper level down to the lower level.
More swings are in the fenced area between the playground and the pod which does have fish and there is a fishing pier there too.
Up towards the north end of the playground, there is a bathroom facility and a sitting area.
There is a tiny little lending library where you can share some books in an enclosure right here at the top of the picnic area.
As one goes to the center of the main parking area you'll see the sign that takes you back to the back parking lot which is where the tennis courts and the bike trails are located.
The tennis area has 4 lighted tennis courts, two of which are stripe for pickleball as well. The park offers an 18-hole frisbee golf course. To the right of the parking lot is the entrance to the walking trails and the bike trails There are 2 mountain bike trails back in the woods.
There are several covered picnic Pavilions around the park.
There is a golf course layout map and the walking trails and the bike trails map in the back parking area too.
A boardwalk that takes you from the backside of the park across the pond back over to the playground.
No boats are allowed in the pond by the way.
Back at the front of the park near Neese Road, there is a large walking trail and a memorial here for a working dog that worked with the police department here in Woodstock.
The large walking trail has several exercise stations along its path. It does circle around a large area that is used for soccer and various other activities and has a baseball diamond and more bathroom facilities as well.
That's an overview of Dupree Park which is located at 513 Neese Road and Woodstock.
If you like some more information you can always contact us directly at 770-650-9300 thanks.