Woodstock GA Summer 2021 Concert Series is BACK
May 02, 2021
The Woodstock concert series is back for its 23rd year! It all started back in 1998 with The Swingin' Medallions, The Roaches, and The Drifters. The series current home is the wonderful Northside Hospital Cherokee Amphitheater at The Park at City Center right in downtown Woodstock. The series has been in this venue since 2016 and has featured the likes of local favorite Mark Wills, .38 Special, and The Charlie Danials Band among so many others.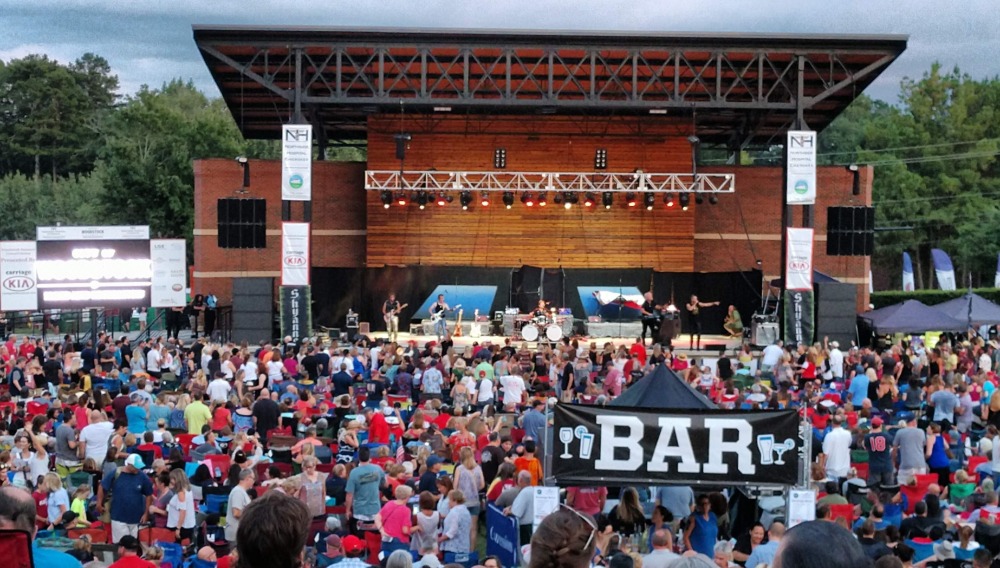 The Black Jacket Symphony-June 12
The Black Jacket Symphony offers a unique concert experience by recreating classic albums in a live performance setting with a first-class lighting and video production. A selected album is performed in its entirety by a group of hand-picked musicians specifically selected for each album. With no sonic detail being overlooked, the musicians do whatever it takes to musically reproduce the album. Following the album and a brief intermission, the Black Jacket Symphony returns to the stage to perform a collection of greatest hits by the evening's artist.
The Ultimate Queen Celebration-July 9
The Ultimate Queen Celebration is a 5-piece band comprised of sole lead vocalist Marc Martel, accompanied by a short list of uber-talented musicians, including Brandon Ethridge (keys), Tristan Avakian (guitar), Jason Gianni (Drums), Mike Cohen (bass), Angus Clark (guitar), J.R. McNeely (bass), and others, depending on the show's location and players' availability.
Long before his YouTube videos went viral, spawning an appearance on "The Ellen DeGeneres Show" and a performance with the surviving members of Queen on "American Idol," Marc Martel spent 13 years recording and touring the globe with Canadian rockers Downhere. Not only did the rock band visit 49 American States, but also toured throughout Europe and even Northern Africa, collecting worldwide acclaim and four Juno Awards in their native land.
Steep Canyon Rangers-August 14
From Asheville, NC, Steep Canyon Rangers are an acoustic sextet with roots in bluegrass, folk and string music. Accolades include a Grammy award for 'Best Bluegrass Album' in 2013 and 'Emerging Artist of the Year' in 2006 at the IBMA awards ceremony in Nashville, TN. Their performances feature mostly original compositions presented with stellar harmony vocals and their collective multi-instrumental talents. The group performs heavily on the Bluegrass, Folk and Americana music circuit including festivals like MerleFest, Telluride, Grey Fox, DelFest and RockyGrass. Abroad, Steep Canyon Rangers have performed shows and festivals in Sweden, Ireland, England, Germany, Switzerland, Australia, Scotland and Canada.
Christopher Cross-September 18
Christopher Cross made history with his 1980 self-titled debut album, winning five Grammy Awards, including - for the first time ever - the four most prestigious awards: Record of the Year (for the single "Sailing"), Album of the Year, Song of the Year (also for "Sailing"), and Best New Artist.
Now, 30+ years after his extraordinary emergence into the music business, Cross is back with a new album, "Secret Ladder," due to be released worldwide on September 12, 2014.
With 13 new tracks, most written with longtime collaborator Rob Meurer, Cross continues his musical exploration of what he terms "grown-up subject matter."
Rumours-September 25
Formed in 2014, Rumours ATL is the quintessential Fleetwood Mac Tribute band. Rumours is the closest thing you'll see to the real Fleetwood Mac in the prime of their career.
Mekenzie Thrift (vocals and percussion)
Alex Thrift (lead guitar)
Adrienne Cottrell (vocals and keyboards)
Denny Hanson (vocals and rhythm guitar)
Jim Ramsdell (bass)
Daniel Morrison (drums)
Parking Map